Aus der Preschool "Beauty Kids" in Denipitiya erreicht uns diese Nachricht. – Betroffen sind 24 Kinder armer Fischerfamilien!  Wir haben den Kindergarten im letzten November noch besucht (siehe Report 23). Das Department of Education hält die Grundausstattung nicht für ausreichend. Der Vermieter von Anbau und Gelände verweigert einen Ausbau. Ein neues Gebäude auf einem anderen Grundstück wäre die Lösung, aber dafür fehlen die Gelder. Auch unser Vereinsbudget ist derzeit am Limit.
Wer kann den Kindern und ihren Familien helfen und sich an der Finanzierung beteiligen?  Bitte!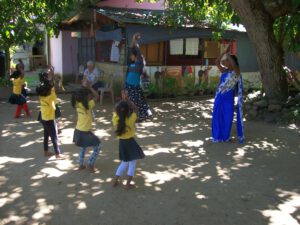 Am 6.Oktober 2020 kommt diese Email aus Denipitiya:  "A large number of the children of our preschool which was started in the year 2016 under the name of "Beauty Kids" have completed their preschool education and left for the formal school. At present there are about 20 children in our preschool.
However, after inspecting the preschool, the officials said that the size of the preschool space and the surrounding environment were not suitable for the safety, physical, mental and health development of the children.
Accordingly, we intend to start a new preschool as soon as possible, at the latest in January next year, but we do not have the financial facilities to do so. However, we have land suitable for the construction of a preschool.
We also intend to maintain a day care centre for the purpose.
The estimated cost for this is around Rs. 1.500.000-2.000.000."                          (das sind um die 7.500 €)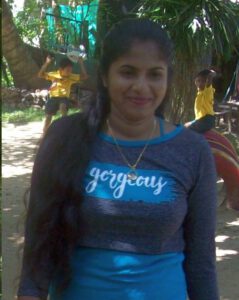 Mrs.Vindya , Leiterin